Our pastor opened up church on Sunday saying 'Today we are going to talk about what we should wear'.  Winnie Joy said to me in an excited whisper, "finally, a sermon about fashion sense!"
Isaiah 61:10 
New International Version
I delight greatly in the LORD; my soul rejoices in my God. For he has clothed me with garments of salvation and arrayed me in a robe of his righteousness,
Robes, aren't those for priests or something?  YES!  Did you know that as a true believer you are a priest?
1 Peter 2:9
New International Version
But you are a chosen people, a royal priesthood, a holy nation, God's special possession, that you may declare the praises of him who called you out of darkness into his wonderful light.
Yes, we are priests, and your righteousness (salvation) is like a fine robe.  It's obvious to others.  Once you have passed from darkness into light, try to go back to the dark places you were once in.  You stand out like a sore thumb!  People will walk up to you and say 'you look out of place here'.
Emotions are like clothes.  I know of people that tend to wear their emotions on their sleeves.  I have that tendency as well.  I really have to fight to not show where I am at emotionally sometimes.
When I emotionally feel 'down' I immediately go on the attack.  I usually grab some pamphlets, and go into the bush and meet people living in there that I have never met before.  I give them a tract and we chat.  And I forget that I am feeling down.  They don't see an emotionally down person.  They see a gringo christian stumbling around telling people that God has a future and a hope for them.
Just recently as I was doing this, I was reminded of the early Chinese Christian church.  The most demeaning job in communist China was that of a mail man.  The communists punished the Christians by making them deliver the mail.  That's what came to me as I was handing out tracts and visiting little shacks in the middle of nowhere.  Everyone likes to receive something.  I gave them something to read, they received me into their home.  Chinese mountain people received a letter from the mail man with great joy.  The mailman in China was being punished for his faith, but because he was clothed in righteousness the people on his mail route didn't see his persecution, they saw his love.  As they received their mail, they received the mailman.  The Christian faith spread like wildfire in China because of their 'punishment.'  He was remembering what Christ did for him, not what the bad guys were doing to him.  People saw what he was focused on.  He projected that to them.
Your spiritual life is affected by where your mind is.  Focus on Jesus, give Him glory in all you do and your spiritual life will be fine.  Doing that affects your emotions.  People tend to get it turned around.  Many churches think that if they get people emotional first, then they will become more spiritual.  That is bad thinking though because people will run after emotions instead of a deeper relationship with God.
The key to having a deeper spiritual life is pondering who we are and what we are in the eyes of God.  We are saved because He loved us enough to  die for us.  We are clothed in HIS righteousness.  We are priests!  Contemplate and ponder that.
Luke 2:18-19
The Shepherds and the Angels
…18 And all who heard it were amazed at what the shepherds said to them. 19 But Mary treasured up all these things and pondered them in her heart. 
The following is a quote from my FaceBook a couple of days ago.  We walk by faith, not by sight, nor emotions:
'MY BEAUTIFUL WIFE AND I HAVE BEEN SERVING HUNGRY CHILDREN IN THE SLUMS OF MANAGUA NICARAGUA FOR THE PAST 3 DECADES….
I DON'T KNOW IF I SHOULD BE HONORED OR SADDENED WHEN A PRISONER, OR A HOMELESS STREET PERSON,  WALKS UP TO ME AND WARMLY SAYS, 'HELLO PASTOR! DO YOU REMEMBER FEEDING ME AND TEACHING ME AS A CHILD?  THOSE WERE THE HAPPIEST DAYS OF MY LIFE ETC.
MOST OF THEM I CAN RECOGNIZE THROUGH THE GRIME AND WRINKLES.  I REMEMBER HIM OR HER AS A BRIGHT EYED, SHINY FACED KID.  I REMEMBER THEM COMING HAPPILY TO THE FEEDING CENTER EVERY DAY WITH DREAMS AND HOPE OF A FUTURE.
HARDLY ANY HAD A SPECIFIC GOAL OR DREAM.  ONE THING WAS IN COMMON THOUGH,  ALL OF THEM FEARED ENDING UP ON THE STREET.  SADLY, MANY OF THEM DID.
THERE IS USUALLY SO MUCH LOVE AND TENDERNESS IN THEIR EYES.  I FEEL LIKE I LET THEM DOWN.  FOR MANY OF THEM I DID.  THERE'S ALWAYS SOMETHING I COULD HAVE DONE DIFFERENTLY.
I FEEL BOTH, HUMBLED, HONORED AND DEEPLY SADDENED.  PRAISE GOOD THE THE FINAL CHAPTER OF THEIR LIVES HAVEN'T BEEN WRITTEN YET!
As long as we take one more breath and the heart beats one more time there is hope.  You fail only when there is no more hope.
We are here to teach children how to recognize the truth.  Their emotions are not the truth.
We need to recognize emotions for what they are.  We need to listen to God, not to our emotions.  At-Risk children are emotional basket cases.  They do ponder though.  We need to continually point them to the Cross of Calvary and what Jesus has done for us there.  Constantly!
Even if they appear not to be making it, we know that God loves them and cares for them more than we do.
'Pajarito' was one of 'my kids' when we first started: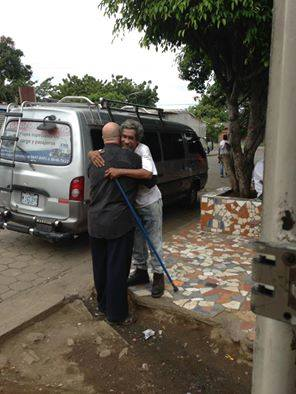 Alex and Poochie Jr. are just 2 of my many new 'kids'.  Pray they end up better!  Clothed in righteousness.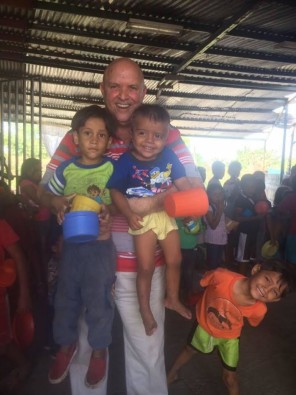 And hey, you never know about Pajarito, the story's not over yet! 
Dean Peters