10Jul14 PureHeartChildren HOMELESS
The only way to love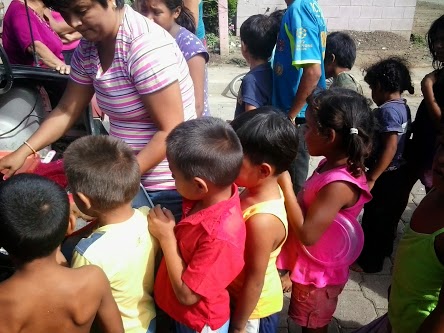 someone is to actually learn and care about them. The only way to do that is to spend time with them. Make them feel at home, even if you´re not in a house. You have to actually talk to them, and listen to what they tell you. By the way, these things I write are usually just to myself. I BLOW it only, so if you feel like I am condemning someone, it´s usually myself that I am pointing the finger at.
Contrary to popular opinion, Winnie and I have found out that it´s the QUANTITY of time that is more important than the QUALITY of time. We learn lot from kids by spending consistent time with them and by asking them questions. The most profound things come up when you´re not even expecting it. Also, when we ask them, we don´t asked closed ended questions like ' how are you?' We usually ask them open ended questions like what their biggest fears are. A little boy told us once that his biggest fear was being homeless. He was 10 years old and lived in a black plastic tent in Managua's garbage dump. But he was surrounded by his gang, so he was with family (in a weird way). Shortly afterwards, we asked Dean Jr what his biggest fear was. He said being homeless. Come to think of it (from a non spiritual point if view) that's my biggest fear for my kids as well. All kids (when faced with reality) fear being homeless. You can live in a house and be homeless but you can't be in a real home and be houseless, even if you´re whole family is living in a car parked in a WAL-MART parking lot. House is just an expensive name for a shelter.
There is a saying, 'Home is where the heart is'. I think children associate HOME with LOVE. Most children also associate LOVE with GOD (I suppose, I am not an expert).
A home is not a house. The difference between the two is love. Home is where mommy kisses your booboos and makes your nightmares go away, (In theory anyway), When Marc Ivanchak and I bought and built our first orphanage we struggled with the name. We came up with the name Home. Not House. (hogar de gloria NOT casa de gloria). Before we bought the land we prayed on it. We were in the middle of this huge empty field that I had found on a long morning jog. There was no one around for miles. I know this sounds weird, but we heard kids laughing. (kind of scary actually) That's why we named it 'home'. Things like joy and love and laughter make a home, not a house. Construction materials, finances (which I constantly TRY not to think about or I panic) and work makes houses, love makes a home. There are lots of children's 'homes' in existence. However, they are not really homes. They are just brick and mortar buildings with little people being warehoused in them. People come and visit, and everyone laughs and plays for a week. Then the tourists leave and everything comes to a standstill. No love, no laughter, just drudgery.
It´s the same thing with family households. For example, Nicaragua has more millionaires per capita than in the states. Yet it´s the 2nd poorest country in the western hemisphere. Average income is around 3 dollars a day. Cost of living is high. There are LOTS of million dollar estates here that are mere houses filled with families. Surprisingly enough, there are tin shacks that are 'homes' nailed to the back of these mansions. The mansions are deadly quiet. The shacks are filled with laughter, noise and love.

Although we have no where near the donations and resources to have a full fledged childrens HOME, we manage to limp along with what we have. We work hard providing the love and laughter the best we can during the time being. If you are going to do something it is best to do it with love. Without love it's a waste of time. I THINK that Home is a picture of God's love and security to young children. When we visit and help people we should bring a WELCOME HOME attitude with us. We are supposed to be representing God. We take God with us wherever we go, however we feel. Even if we don´t feel like it, people are looking to see God in us. They EXPECT to see something different in us. Our job is to make people feel at home. We are strangers in a strange land. Our real Home is with God in heaven. Meanwhile we need to provide HOMES as much as possible for HIS children while we are passing through.
Speaking of kissing booboos,, Dra Barbara Blum and her daughter Sarah (see attachment) came down and helped lots of kids. She brought medicine for Xochi´s skin diseasen (foto) , and for Roger´s glass eye. AND they made the kids feel at home with home made food!