This has been a spectacular week.
I always tell my kids when they wake up in the morning that the choice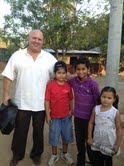 is theirs to have a great day or a horrible day. The choice is really whether to be in a good mood or bad mood. I tell them to be in a good mood, they are not allowed to be in a bad mood. It's a choice. Also to be a blessing or a curse is a choice.
This week BRANDON went with me to the dump to minister! Look at the attached picture! Amazing grace, how sweet the sound! From one foot in the grave because he got run over by a taxi last september, to walking in the dump and ministerring to the children and sharing his story in March is AMAZING: (see attached photo of me and Brandon, and Mango Chupado (Connie´s son) and Jennifer his little sister.
We made a deal on the house where our school is. 50k. Plus we have a firm commitment from the donor. The orphanage (Winner Home for AT RISK Children) will become a reality and will be bring in children within a few weeks. We get 75% of the property. The other part cost 30k, but we can rent it until we can buy it.
It is amazing how when the destroyer wants to destroy, God turns it around to be a blessing. Kind of like chicken feet. Here they use chicken feet for voodoo curses. But kids LOVE to eat chicken feet. I love things that kids love because I love kids. So does God. These kids are happy with any type of attention or blessing. Chicken feet is over the top.
God uses these beautiful children to humble me and teach me and my family. I pray that I can be a good steward of what God has blessed us with.
Right here, Right now, there is no other place I'd like to be.
Here's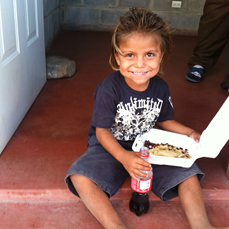 Poochie enjoying chicken feet.
My friend, musician and child minister Alex Suarez is praying about going to the states. He is so gifted with children. I would love for him to stay. Going to the states could be good or bad,