Our New Mailing Address-
C/O Denette Lauer
PO Box 60
Milford, MA 01757
(ver más abajo para español)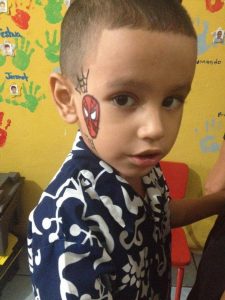 John 4:35
Don't you have a saying, 'It's still four months until harvest'?  I tell you, open your eyes and look at the fields!  They are ripe for Harvest.
Taking my young family on excursions has been a high point of my life.  We lived on the eastern shore of Maryland.  If we wanted to go somewhere, we would have to leave early in the morning.  The fields along the highways were always covered with the early morning fog.  It is one of my favorite memories.  My son even used foggy fields as his password!  He said it was a random choice.  I like to think foggy fields are a fond memory of his as well.  Happy times.I love fields.  I love walking in them.  Fields intrigue me because they are deceptive.  They are much more complex and expansive than they appear from the road.  Once you get in the middle of one, your whole concept of a field changes.  They are bigger than they look and there are difficulties, ie holes made by ground hogs, thick mud, matted grass, and prickly stuff.  Things you can't easily ignore.  A field is not like the enormous manicured front lawn of a palace.  They are more like large patches of dirt in which you can literally find anything.
Once you know fields, it's easy to put off going into them because you know it's going to be uncomfortable.  You park your car and get out.  Immediately you step into a ditch filled with mud and water, over grown thorn filled bushes and other unpleasant stuff.  Your comfortable car doesn't seem so boring all of a sudden.  Prickly things are getting you.  Your shoes get stuck in the mud and start leaking, soaking your socks.  Don't forget the bugs, heat, muck in the summer.  The bitter cold that cuts you like a knife and the rock hard frozen ground in the winter…but it is totally worth it to me anyway.
In the Bible, the field represents mankind.  You can observe the foggy field of mankind from the comfort of Bible studies, prayer, sermons, seminary, church or a good spiritual book.  All those things are great, but they are designed to move you out of your comfort zone.
When you emerge out of the comfortable thing from which you are looking at the field, it suddenly gets 'complicated'.  It's not always as pretty and inviting as it looks like from your prior point of view.  People are prickly.  Humanity smells.  Situations are sticky.  Lot's of pain and discomfort.  It's easy to put off going out there and getting in the middle of things because once you do, you know that the 'game is on'.
Jesus tells us to go never the less.  To get into the mix.  The fields are here now.  The fog and appearances are deceptive, but they are ready.  Mankind is ready to hear the good news of Jesus.  Where do you go?  Outside the car and into the field.  The mailman or your neighbor.  The check-out lady at Wal-Mart.  When you turn on the light, and show them Jesus, they see a difference and ask your opinion about something (because they see a difference in you through your actions) and the battle begins.  It gets ugly.  That's the field.  You will get into that field, and find that there is so much more.  It goes on and on.  It is uncomfortable, but it is the will of God.  As a Christian you will love it.
Who knows, someday you might even end up with us in Nicaragua! 🙂
The hardest thing about entering a physical field is opening the door of your car and getting out.
The hardest thing about entering a spiritual field is opening the door of your heart and getting out.
Dean
Campos
Juan 4:35
¿No tienes un dicho: "Es todavía cuatro meses hasta la cosecha '? Te digo, abre los ojos y mirad los campos! Están maduros para la cosecha.
Recuerdo que cuando mis hijos eran pequeños, solíamos ir a lugares en mi día libre. Vivimos en la costa este de Maryland.  Tendríamos que salir temprano por lo general.  Los campos siempre estaban cubiertas con la niebla de la madrugada.  Es uno de mis recuerdos favoritos.  Mi hijo, a medida que desarrollaba lentamente en un geek de la computadora, utilizaba 'campos de niebla' como su contraseña.  Dijo que era una elección al azar, pero me gusta pensar 'campos de niebla' son un buen recuerdo de el también.Me encanta campos.  Me encanta caminar en ellos en cualquier momento, excepto bajo el calor del sol.  Los campos me intrigan porque son engañosos.  Son mucho más complejo y extenso de lo que parece desde la carretera.  Una vez que estas en el medio de uno, todo tu concepto de campos cambian.  Ellos son más grandes de lo que parecen.  Hay dificultades, como los agujeros hechos por los animales, barro, hierba mate, materia espinosa.  Cosas que no puede pasar por alto fácilmente.  Un campo no es como un enorme jardín delantero de un palacio.  Son grandes, y sucios, donde se puede encontrar literalmente cualquier cosa.Una vez que sabe de los campos, es fácil de postponer entrar en ellos, porque usted sabe que va a ser incómodo.  Se estacione su coche,y sale.  Inmediatamente entra en una zanja llena de cosas.  Su coche cómodo no parece tan aburrido, de repente. cosas espinosas y feas están molestándote.  En el verano hay siempre los bichos.  El calor, la humedad, la suciedad, Y BERRINCHE, pero vale la pena, para mí de todos modos.En la Biblia el campo es la humanidad.  Se puede observar el campo de niebla desde la comodidad de un seminario o un buen libro espiritual, pero al salir de la cosa cómodade repente va a ver que es 'complicada'.  El campo es tan bonito como se ve desde su punto de vista antes.  La gente es espinoso.  La humanidad huele.  Las situaciones son pegajosas.  Es fácil de postponer a salir allí porque una vez que lo hace, el 'juego está.'Jesús nos dice que vaya.  Para entrar en la mezcla.  Los campos están aquí, ahora.  Están dispuestos a escuchar las buenas nuevas de Jesús.  ¿A donde vas?  Afuera!  Al cartero.  Tu vecino.  El registro en Wal-Mart.  Ese es el campo.  Va a entrar en ese campo, y encontrar que hay mucho más.  Lo sigue y sigue.  Es incómodo, pero es la voluntad de Dios.  Como cristiano le encantará.  Quién sabe, algún día incluso podría terminar con nosotros en Nicaragua! 🙂
Lo más difícil de entrar en un campo físico está abriendo la puerta de su coche y salir.
Lo más difícil de entrar en un campo espiritual es la apertura de la puerta del corazón y salir.
Dean Peters
Fundacíon  Corazón Puro es una organización sin ánimo de lucro, para ayudar a los niños en Nicaragua
Nuestra nueva dirección para correos es:
C/O Denette Lauer
PO Box 60
Milford, MA 01757