When I had a real feeding center here years ago, a young lady always showed up, completely bare naked. She slept in a garbage pile around the corner. We had children in the feeding center so i couldn't let her in but we always gave her a plate of food and she'd listen to our little Sunday school class we'd give as the kids ate. She disappeared a few months later. We hired more ladies to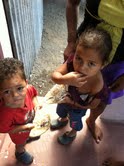 help us. about a year later i kind of missed her and asked the kids 'has anyone seen the naked lady'? One of the ladies on our staff said, Hey! That was me! i got saved, got cleaned up, put on clothes, started showing up and you gave me a job! i absolutely was stunned and humbled. I would love to find her again. She got fired from the feeding center as soon as i left , when they were cutting costs over there. I hear she's still alive, I am looking for her. Please pray for her, her name is Jenny.
Our Pre School opening possibly delayed

above is a video of our school, 500 dollars later and 2 lawyers since September, and find out today that nothing has been done so far! yikes, i know about the manana mentality but school is starting!Brandon, the boy who was run over can stand now! He is the one in the hospital bed with a broken femur.Brandon is amazing! every month is a miracle!
One of the kids from the Guadelupe dump resettlement community, Poochie, runs waiting for me to come. all day. Makes everything worthwhile.
expenses this week
521 restaurant
200 teachers salaries
1020 more desks, and boards
30 paint
50 painter
200 advertising
89 taxi
39 bus
760 charity
250 feeding
30 medicine *us
521 medicine others
240 more repairs to oven and kitchen
211 repairs for break in and replacement of stolen items
income
13782 donations
262 restaurant
with extra money
1. catch up on back pay
2. catch up on rent, electricity, water and city tax
3. more lighting for restaurant
4. safer furniture (fat guy broke one of our chairs)
5. plumbing improvements
6. kitchen improvements
7. 24/7 guard
8. concertina wire or electronic security or both
9. more feeding
10. move medical help
11. car, walking around doing shopping for the restaurant is time consuming, tiring and very dangerous.
12. get grannies christmas present out of customs
13. new stove (this one will stay, but we need one just for pizzas)
14. boxes for delivery motorcycles (with jackets advertising take out)
15. more jobs
16. extreme make over for a lady named rafaela (our cook, even from the feeding center days. She almost got electrocuted last week trying
to fix a leaky roof. David Lewites and a few other brothers and us are going to team up and help this noble lady out.
17. fumigation,, we are over run by everything from bats, rats, to ticks cockroaches and fleas.