An interesting week a here in Managua Nicaragua
I have been dwelling on the good shepherd leaving the 99 to find the one. The 99 are good, they're taken care of. It's that ONE that worries me. IF you are 'intolerant' you will not go after that one.
Winnie and I believe that the greatest, most evil sin imaginable is to NOT help a child because he or she is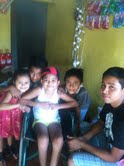 different than you. Love 'em first, then let God figure it out. If you turn a kid away from jump street, you've lost them before you even began. I am learning every day to pull the beam out my own eye first, which will probably take the rest of my life.
1.You are invited to our grand opening!
THE GRAND OPENING of Winnie's 'ROSTICERRIA ROMA' is this SATURDAY 19 JAN @ 1730 (our Italian phase of our restaurant) We are excited about the additional income stream for what we are doing, as well as the opportunity to bless many people with work. The food is never wasted, not even table scraps. We usually have a line when we close. We live 10 blocks from the dump and the housing settlement (Guadelupe), so there's always needs. Sounds bad, but if you have hungry kids, it's a feast. So,helping people, teaching people to hold down valuable jobs, feeding kids, and supporting works is what I live for. Mario our chef I kind of scrapped out of the gutter here. He's an executive chef from Rome who went through a dark spot in his life, just coming out of it. Been there done that. He told me he sees God in the way Winnie and i treat him. Don't know about that, but we do love him. My painter is still a raging alcoholic, but he has a few more straight lines to paint before I try to help him sober up.
2. This week I have had the opportunity to help a lot of remnants from the medical brigade's visits last week. Most of it was just visitation of people who I promised I would visit while I was there. I TRY to be a man of my word, although I blow it frequently. Also, I have been entertaining an american who is down here til Saturday Winnie has been busy working the fritanga and training the ladies and getting the restaurant ready for Saturday's hoopla. Also she has been doing interviews (which brings us to number 3.)
3.OUR PRE-K opens in a few weeks. We HAD teachers, but as it turns out they have to have degrees! YIKES! So Winnie and I have been scrambling. We have had a nice donation this week, but we have to fill the school with tables, supplies, etc. And we now have to interview for 3 teachers and 1 director. (we have three classes to start, this is our third school down here, so we have it down to a science. One class is for 3 year olds and younger, One class is for 4 years olds, and one class is for 5 year olds. NEXT year, we will have a first grade, etc. right up to college if the Lord tarries)
4. I am just keeping up with people I have worked with in the past. The dynamics are constantly evolving. Little Primi 'Nataniel' is doing fine, growing very slowly but surely. Brandon, (the boy that was toast last august because of getting run over by a car) STOOD today. He talks, he answers, still doesn't quite know who his mom is, but it's coming. He calls her mom, cause that's her name, he thinks. But Every week I visit he is doing much better. Bought him a walker, but it didn't work. So we are getting him another walker tomorrow. I watched one lady grow up here, raise from an infant. I always called her Nena Papa because she was raised in the oriental market, and I watched her as she was laid in the potato bin while her mother slaved in the market. NOW, she's Nena Cebolla (she made the switch to onions. She had a baby,, guess what she uses as a crib?? My little blond boy from the dump that I lost doing the relocation, Bullito, (real name Victor) NOW is called Poochi. (he's a great salesman, changes his name every week. Really evasive. He will not give a direct answer to save his life! He had a boo boo today, wanted me to kiss it (yuk, he works in the dump). I asked him what cut him, he said a 'chunche'… in other words a 'thing kind of a thing'. 11 year old Juan Carlos (cleft palate) disappeared after his trial where he identified his assailant. At least he's not working that semaforo that I can tell.
The last picture is the moms running down from the dump,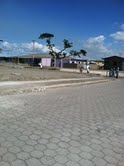 in the scorching hot sun, to cook for their many hungry children and drunken husbands, to go back to dig in the dirt of the dump afterwards looking for metal. average income is 75 cents a day right now. ONE visiting team lady, INNOCENTLY said,, hummmmm, I wonder why the moms don't go out side and plant flowers when then come home from work at night…. i told her gently,, I think digging under the hot sun is the last thing they want to do when they can finally relax. The lady missionary wasn't judging, she was really nice,, cultures are interesting.
Costs this week
2877 in school tables, swing set, seats, blackboards, supplies, remodeling, instructional material for three classes
45 in taxis
15 buses
189 medical others
21 medical us
348 food (restaurant and us ,,we just eat out of the restaurant)
125 incidental salaries and bonuses
250 charity
25 toy for Winnie Joy's Birthday and her pinata birthday party (tomorrow 🙂
85 computer repair
130 new *used* computer
150 new utensils and tables for kitchen
167 both building's electricity
89 both building's water
115 internet phone and cable for both bldgs
45 cell phones
total (4822)
Incoming this week
425 restaurant
4163 donations
total (4588)
-234 which is not very bad at all!
Thanks