20feb15 Hurt Feelings
(Desplácese hacia abajo para la traducción en español.)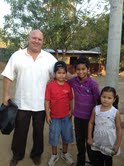 A little 3 year girl has not spoken to me in a week. I pray that I just hurt her feelings some how and that it is not a sign of something bad happening in her home.
Even so, if I had indeed hurt her feelings I repent and will do my best to make it up. In the meantime, my feelings are hurt as well because she is giving me the silent treatment (must be taking lessons from Winnie! :).
Men tend to ridicule sensative people. I guess all our lives we have to told to SUCK IT UP in school, and to HARDEN OUR HEARTS by a hord of screaming drill sgts. Even supposed business and religious leaders tend to mock other people's feelings. They go as far as making up cute little sayings to make others think that they are not smart, strong or spiritual. I even fell for it for a time because it seemed manly.
The longer I try to truly walk with the Lord, the more I see how sensitive He is. He gets happy, angry, jealous, delights, rejoices, and gets sad. If we are to reflect Jesus to others, we truly need to follow His examples. Religious leaders seem think it is cool to mock people who are not like they are (especially from behind a pulpit or microphone). God says mocking is sin.
Jesus was gentle and kind. His eyes are on the sparrow and He is aware of our issues. Whether we are 3 or 57, we all have feelings, and to reach others, feelings have to be respected..
If it is important to an impoverished 3 year old we are 'caring for', it is important to us as well.
Situational awareness is key, I know that most of my life I have been oblivious to it. Now I cringe!
Here is a video Winnie and Lisseth encouraging the little children at our Pre School

—
Dean Peters
USA NUMBER 1-240-345-9268
local cel in Nicaragua 55010927
Deanpeters123 skype
20feb15 sentimientos heridos.
Una niña 3 años no me ha hablado en una semana. Pido a Dios que había herido sus sentimientos de alguna forma y que no es un signo de que algo malo suceda en su casa.
Aun así, si es que había herido sus sentimientos me arrepiento y haré todo lo posible para arreglar la situación. Mientras tanto, mis sentimientos están heridos así porque ella me está dando el tratamiento del silencio (se debe tomar lecciones de Winnie! :).
Los hombres tienden a ridiculizar personas sensitivas. Toda nuestra vidala gente ha dicho que aguantarlo en la escuela, y para endurecer nuestros corazones por los gritando sargentos de taladro. Incluso supuesta líderes de negocios y religiosos tienden a burlarse de los sentimientos de otras personas. Ellos van tan lejos como que constituyen pequeños refranes lindos para hacer que otros piensan que no son inteligentes, fuertes o espiritual. Incluso yol por un tiempo porque sonaba sabio
Cuanto más que trato de caminar verdaderamente con el Señor, más veo lo sensible que es. Se pone feliz,enojado, celoso, se deleita, se alegra, y se pone triste. Hemos de reflejar a Jesús a los demás, si de verdad queremos seguirlo. Jesús era gentil y amable. Sus ojos están en el gorrión y Él es consciente de nuestros problemas. Ya sea que seamos 3 o 57, todos tenemos sentimientos, y para llegar a los demás, q tienen que ser respetados ..
Si importante para un niño de 3 años,es importante.
Ser consciente es clave,
Aquí hay un video Winnie y Lisseth alentando a los niños de Corazón Puro Pre Shool