02apr15 Reborn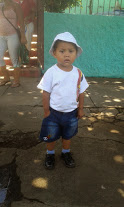 Nicodemus was a religious leader. Por favor, desplácese hasta el fondo para la traducción española.
He knew all the fancy prayers, all the formulas for holiness. He even knew all the ways to get people to join his brand of religion.
Jesus was a criminal, a radical trouble maker on his way to being publicaly executed eventually. He was an enemy of the church.
Late one night, Nicodemus confessed to Jesus that he knew that Jesus had the answers. Nicodemus made a confession, but Jesus knew he was asking indirectly how to go to heaven. Jesus told Nicodemus, as recorded in John 3:3, "Verily verily, I say unto thee, except a man be born again, he cannot see the kingdom of God."
Jesus went on to explain that it was something that God does, not man. Just like you cannot control the wind, you cannot control God's grace. It is by grace that we are saved, not by our works, nor the works (salesmanship) of others. We are to shine the love of Jesus, not jam it down someone's throat. Jesus saves, man does not. What He uses us for is to share His truth and love with others. The old testament says we are drawn to Him by tender cords of love. We are not whips, but tender cords. We are not sin exterminators but grace dispensers.
Jesus' love for us, demonstrated by his death, and His divinity, demonstrated by His resurrection, makes it possible for us to trust and obey Him. It is our job teach by example these little ones to do the same.
Slowly but surely we are seeing many of these children being reborn into a world of hope and possibilities. God is the God of second chances.
God is love. 1 John 4:8
URGENT PRAYER
Money (we're completely broke, GULP!)
Customs problems
Legal-governmental problems
Feeding center (lots of issues there recently)
One single mother with 7 kids there has twins on the way.SMH
PRAISE
All 30 kids in the Pre School are PERFECT LITTLE ANGELS! ALL!
Winnie has been healed of her thyroid condition.
—
Dean Peters
USA NUMBER 1-240-345-9268
local cel in Nicaragua 55010927
Deanpeters123 skype
BLOG
www.whatistheloveofgod.com
Nicodemo era un líder religioso.
Conocía todas las oraciones, todas las fórmulas para la santidad. Incluso sabía todas las formas de llegar a la gente a unirse a su manera de la religión.
Jesús era un criminal, un creador de problemas. Un radical en camino de ser públicamente ejecutado finalmente. Él era un enemigo de la iglesia.
Una noche, Nicodemo confeso a Jesús que él sabía que Jesús tenía las respuestas. Nicodemo hizo una confesión, pero Jesús sabía que le estaba pidiendo indirectamente, cómo ir al cielo. Jesús le dijo a Nicodemo como se registra en Juan 3: 3 de cierto de cierto te digo, que el que no naciere de nuevo, no puede ver el reino de Dios.
Jesús continuo a explicarle que se trataba de algo que Dios hace, no. hombre. Al igual que usted no puede controlar el viento, no se puede controlar la gracia de Dios. Es por la gracia que somos salvos, no por nuestras obras, ni las obras (el arte de manipulación) de otros. Estamos para brillar el amor de Jesús, no esforzarse a alguien aceptarlo. Jesús es lo que salva, los hombres no. Nuestro propósito para Él es compartir su verdad y amor con los demás. El Antiguo Testamento dice que somos atraídos hacia Él por las cuerdas tiernas de amor. No somos látigos, pero cuerdas tiernas. No somos exterminadores pecado sino dispensadores de la gracia.
El amor de Jesús por nosotros, demostrado por su muerte, y su divinidad, demostrado por su resurrección hace posible que confiemos y le obedecemos. Es nuestro trabajo enseñar con el ejemplo de estos pequeños a hacer lo mismo.
Poco a poco estamos viendo muchos de estos niños está renaciendo en un mundo de esperanza y posibilidades. Dios es el Dios de las segundas oportunidades.
Dios es amor. 1 Juan 4: 8
ORACIÓN URGENTE
Dinero (estamos completamente rompimos)
Problemas aduaneros
Problemas legales gubernamentales
La alimentación del centro (un montón de cuestiones allí recientemente)
Una madre soltera con 7 niños y ya esta encinta con gemelos.
ALABANZAS
Todos los 30 niños en la Escuela Pre son PEQUEÑOS ÁNGELES perfecto! TODOS!
Winnie se ha curado de su enfermedad de la tiroides.