(español and  progress @ Home for At-Risk children below)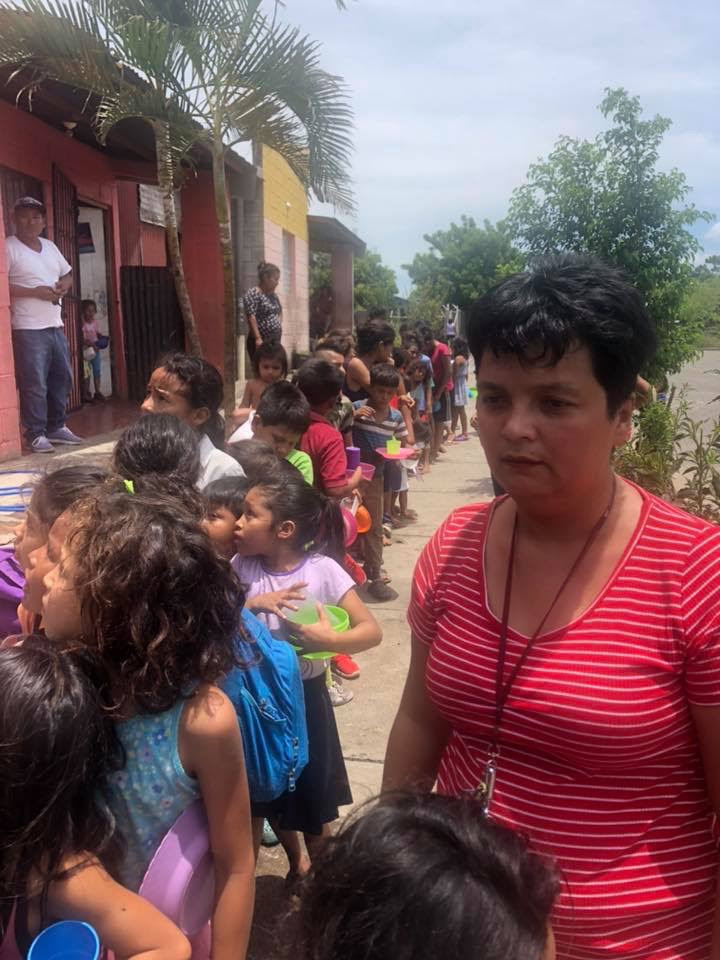 1 Corinthians 4:2: It is required of stewards, that a man be found FAITHFUL!
To be faithful you have to have faith. I find myself weak in faith sometimes. When I am low in that area, it is hard to be faithful. Invariably it's when I haven't been in the Word as much as I should have been. I am expressing doubts, even saying negative things to myself. Faith comes from hearing the Word of God. Lack of faith comes when I am hearing something else, even my own doubtful words. Faith comes when you hear the Word and EXERCISE what you hear with faith. Faith is not something passive. It doesn't come by prayer. When you have faith, you will be blessed. Work for it, it's worth it.
Proverbs 28:20"A faithful man shall abound with blessings."
God's words, not mine.
Faithful means stable. I am not just talking about faith in God. You need to be full of faith in something to be stable about anything. Faithful means you're not going anywhere, even when times are tough or scary. You aren't going to change lanes quickly on the highway of life. People will trust you if they know what to expect. If they don't know who is going to 'answer the door' when they knock they will stop coming to you for help, (which is the only reason a Christian is on this planet). If man can't trust you, God can't trust you.
James 1:8 A double minded man is unstable in all his ways.
While God can intervene, and give you supernatural skills or wisdom when necessary, I strongly believe that people either 'have-it' or they don't. I am not gifted in so many ways. I can't play any sports well that require a ball. I can't run very fast. I will never win a bikini contest at muscle beach, nor will ever be able to sport a 'man' bun. I can't read very well. I have no social skills and my concentration level is even worse. My mind is all ove the place, all the time. Straight C's in was my greatest academic accomplishment. No matter what new-agers and Hollywood tells you, 'you CAN'T be anything you want to be if you put your mind to it'. You need to be born with basic tools to begin with. If you're not wired to do something, move on. Many people live and fail miserably at life because they are faithful to a lost cause or dream. They wanted something that God didn't want for them.
I focus on what I can do. Faithfulness (stability) doesn't have anything to do with natural born talent or DNA. It's a simple decision. I have decided to follow Jesus. Faithfulness to God, and what He shows us to do, is one thing that doesn't require a great gene pool. I focus as much as I can on that. It's the most important thing. Being a faithful to my small circle of friends is something also I can do. I can be faithful to my wife and children. I try to be faithful to those who I minister to and to those I come into contact with. I can do that. I think faithfulness is much more important to work on than trying to be popular in the world. God LOVES faithfulness to Him. You know someone is faithful to God if they are righteous (doing what's right in God's eyes).
Acts 10:35 But in every nation he that feareth him, and worketh righteousness, is accepted with him.
We all have one of two fathers. God or the devil. You, by the nature of your spirit, will be faithful to your father. If your spirit is born again, it will be faithful to God, because you have God's faith in you. When you become born again, the object of your faithfulness changes. While you used to be faithful to yourself, you change and become faithful to God and to OTHERS. Your actions will show you who you are faithful to. Like faith, it really isn't as important what you are faithful about. It's about WHO you are faithful to.
Luke 16:10-12 – He that is faithful in that which is least is faithful also in much: and he that is unjust in the least is unjust also in much
PHASE 3 of HOME FOR AT-RISK TODDLERS IS ALMOST FINISHED!
WE ARE IN THE LAST STEPS OF FINISHING UP THE DORMS FOR THE GIRLS AND HOUSE MOM. STILL NEED THE VAN, PROVABLE ADDITIONAL MONTHLY FINANCES, AND REPAIRS TO THE HOUSE IN GENERAL BEFORE WE CAN HAVE THE GOVERNMENT APPROVAL.
—–FIDELIDAD—-
(busca abajo para progreso @ WinnerHome para niños en riesgo)
1 Corintios 4: 2: ¡Se requiere de los mayordomos que se encuentre a un hombre FIEL!
Para ser fiel tienes que tener fe. A veces me encuentro débil en la fe. Cuando estoy bajo en esa área, es difícil ser fiel. Invariablemente es cuando no he estado en la Palabra tanto como debería haber estado. Estoy expresando dudas, incluso diciéndome cosas negativas a mi mismo. La fe viene escuchando la Palabra de Dios. La falta de fe proviene de cuando escucho algo más, incluso mis propias palabras dudosas. La fe viene cuando escuchas la Palabra y EJERCITAS lo que escuchas. La fe no es algo pasivo. No viene por la oración. Cuando tengas fe, serás bendecido. Trabaja por ello, vale la pena.
Proverbios 28:20 "Un hombre fiel abundará en bendiciones".
Las palabras de Dios, no las mías.
Fiel significa estable. No solo estoy hablando de la fe en Dios. Necesitas estar lleno de fe en algo para ser estable sobre cualquier cosa. Fiel significa que no irás a ninguna parte, incluso cuando los tiempos sean difíciles o atemorizantes. No vas a cambiar de carril rápidamente en la carretera de la vida. Las personas confiarán en ti si saben qué esperar. Si no saben quién va a "abrir la puerta" cuando toquen, dejarán de venir.
Si el hombre no puede confiar en ti, Dios no puede confiar en ti.
Santiago 1: 8 Un hombre de doble ánimo es inestable en todos sus sentidos.
Si bien Dios puede intervenir y darle habilidades o sabiduría sobrenaturales cuando sea necesario, pero creo firmemente que algunas personas tienen talento y otras no. No estoy dotado de muchas maneras. No puedo jugar bien ningún deporte que requiera una pelota. No corro rápido. Nunca ganaré un concurso de bikini en la playa, ni podré lucir un moño de 'hombre'. No puedo leer muy bien. Tengo 0 filtros y mi nivel de concentración es aún peor. No importa lo que le digan los de Hollywood, "NO PUEDES ser lo que quieras ser si te lo propones". Para empezar, debes nacer con herramientas básicas.
Muchas personas viven y fracasan miserablemente en la vida porque son fieles a una causa o sueño perdido. Me concentro en lo que puedo hacer. La fidelidad (estabilidad) no tiene nada que ver con el talento natural. Es una decisión. He decidido seguir a Jesús. La fidelidad a Dios, y lo que nos muestra que hagamos, es una cosa que no requiere un buen DNA genético. Me concentro tanto como puedo en eso. Es lo más importante. Ser fiel a mi pequeño círculo de amigos es algo que también puedo hacer. Puedo ser fiel a mi esposa e hijos. Trato de ser fiel a aquellos a quienes ministro y a aquellos con los que entro en contacto. Yo puedo hacer eso.
Creo que es mucho más importante trabajar en la fidelidad que tratar de ser popular en el mundo. Dios ama la fidelidad a él. Sabes que alguien es fiel a Dios si es justo (haciendo lo correcto a los ojos de Dios).
Hechos 10:35 Pero en toda nación el que le teme y hace justicia, es aceptado con él.
Todos tenemos uno de dos padres. Dios o el diablo Usted, por la naturaleza de su espíritu, será fiel a su padre. Si tu espíritu nace de nuevo, será fiel a Dios, porque tienes la fe de Dios en ti. Cuando naces de nuevo, el objeto de tu fidelidad cambia. Mientras solías ser fiel a ti mismo, cambias y te vuelves fiel a Dios y a OTROS. Tus acciones te mostrarán a quién eres fiel. Como la fe, realmente no es tan importante por lo que eres fiel. Se trata de a quién le eres fiel.
Lucas 16: 10-12 – El que es fiel en lo que es menos, también es fiel en lo mucho; y el que es injusto en lo más mínimo, también es injusto en lo mucho.
FASE 3 DE NUESTRA CASA PARA NIÑOS EN RIESGO CASI ESTA TERMINADA. ESTAMOS EN LOS ÚLTIMOS PASOS PARA TERMINAR LOS DORMITORIAS PARA LAS MUCHACHAS Y LA MAMÁ DE HOGAR. TODAVÍA NECESITA EL MICROBUS, LA SOSTENIBILIDAD ($) Y LAS REPARACIONES DE LA CASA EN GENERAL ANTES DE QUE PUDAMOS TENER LA APROBACIÓN DEL GOBIERNO