(españoL BELOW *NOTE; we are looking to buy a small van w/ AT.  We are willing to drive it down to Nicaragua from the states.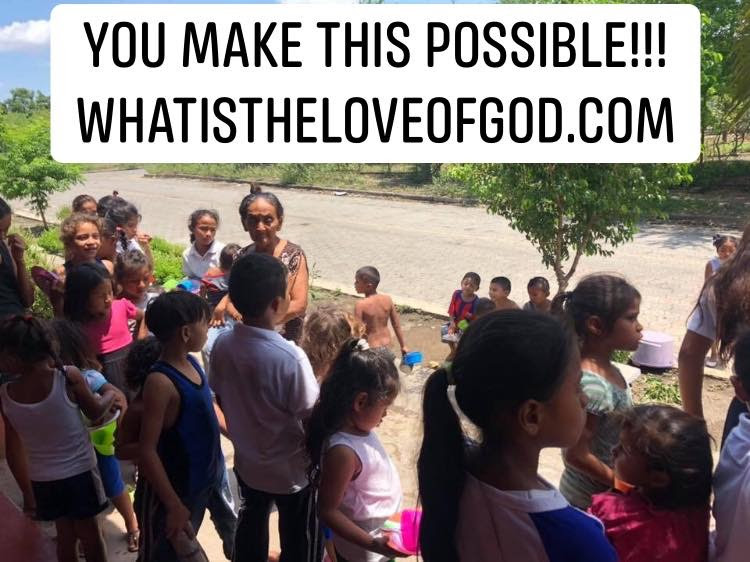 2 Timothy 1:12 For the which cause I also suffer these things: nevertheless I am not ashamed: for I know whom I have believed, and am persuaded that he is able to keep that which I have committed unto him against that day.
The Spanish language has 2 words for 'know'. Saber and conocer. When Dean Jr was still a toddler and he heard Winnie and I talking about knowing Jesus. Deannie said, I know about Jesus (saber) but I don't know Him (conocer) personally. Knowing HIM is the only way you can have FAITH in HIM. It is impossible to have faith in Him of you don't know Him. Just knowing about Him and liking Him isn't enough.
It's not what you know, it's WHO you know. I have faith in God because I know Him. Faith in some one and knowing someone go hand in hand. You can't have faith in someone if you don't know them. I want to know Him even more. No one knows Him completely. Even the Apostle Paul said he wanted to know God more as well!
Philippians 3:10 That I may know him, and the power of his resurrection.
While none of us know Him completely, we know enough about God to put ALL OF OUR FAITH IN HIM. For example; God has never sinned. He has never lied. He is good to His Word. He is completely trustworthy. He is a good good Father. If His eyes are on the sparrow, His eyes are also on us. He's concerned about us. He loves us. All good things come from Him.
When people quote Philippians 4:19 'But my God shall supply all your needs according to his riches in glory by Christ Jesus', and then qualify it with a wimpy 'but you never know..the Lord works in mysterious ways,,,, let His will be done,,, maybe it's His perfect will that we suffer etc etc.' it makes you kind of wonder. At best they are insulting God. It's like saying 'Dean said he'll do this, but you never know'! I don't know about you, but it isn't very complimentary. Either you have faith in God and His Word, because you KNOW Him, or you don't. If you know Him, you know He is good for His Word.
Don't major in the minors. People get so caught up in words and opinions that they miss the point. Faith is not begging. Faith is not something you guess you believe. It's not memorization. It's not a formula. It's not faith in yourself. It's not faith in a Bible quote. It's not a system. Many times it's not even a Christian thing, no matter how spiritual it sounds. Only complete Faith in what Jesus has done and in Him alone is Christian faith. A saving, Christian faith is being completely convinced and persuaded that God will do what He says He will do, and you are asking Him for something He's already promised to you. That is not begging, it's laying hold of a claim. You can only do that if you truly know Him and trust Him.
I used to say I believe (have faith) in the power of prayer, but that in itself is worthless. You might be just having faith in yourself, your conviction, your many flowery words. You have to have faith, real faith, in whom you are are praying to, or it's just wishing, not having faith. If you don't pray to God in real faith, you are just praying to yourself, or worst yet, AT someone. People pray every day by the billions, and it's a waste of time if it's not to the only one, true God.
Luke 8:11 The Pharisee stood and prayed thus with himself, God, I thank thee, that I am not as other men are, extortioners, unjust, adulterers, or even as this publican.
If you don't know God you can't have faith in Him. You really can't even talk to Him. You can change that right now. The fact that you even want to know God is supernatural. That's God's Holy Spirit guiding you. Give in and completely surrender to Him today.
Romans 10:9 That if thou shalt confess with thy mouth the Lord Jesus, and shalt believe in thine heart that God hath raised him from the dead, thou shalt be saved.10 For with the heart man believeth unto righteousness; and with the mouth confession is made unto salvation.
Important note! The confession comes before the salvation*
Once you know Him, truly know Him, you will have faith. The Bible will make sense, because He will give you eyes to see a faith to believe. You will have hunger and thirst for righteousness.
1 John 4:6 We are of God: he that knoweth God heareth us; he that is not of God heareth not us. Hereby know we the spirit of truth, and the spirit of error.
whatistheloveofGod.com
—español—
Conocer
2 Timoteo 1:12 Por lo cual, yo también sufro estas cosas; sin embargo, no me avergüenzo; porque sé a quién he creído, y estoy convencido de que él puede guardar lo que le he cometido contra ese día.
El idioma español tiene 2 palabras para saber. Saber y conocer. Cuando Dean Jr todavía era un niño pequeño y escuchó a Winnie y a mí hablar sobre conocer a Jesús. Deannie dijo: Sé acerca de Jesús (saber) pero no lo conozco personalmente.
Conocerlo es la única forma de tener FE en ÉL. Es imposible tener fe en Él si no lo conoces. Saber acerca de Él no es suficiente. No es lo que sabes, es a quién conoces.
Tengo fe en Dios porque lo conozco. Quiero conocerlo aún más. Nadie lo conoce completamente. ¡Incluso el apóstol Pablo dijo que también quería conocer a Dios más!
Filipenses 3:10 para que yo pueda conocerlo, y el poder de su resurrección.
Si bien ninguno de nosotros lo conoce por completo, sabemos lo suficiente acerca de Dios como para poner TODA NUESTRA FE EN ÉL. Dios nunca ha pecado. El nunca ha mentido. Él es bueno con su palabra. Él es completamente confiable. Es un buen buen padre. Sus ojos están en el gorrión, Sus ojos están en nosotros. Está preocupado por nosotros. Él nos ama. Todas las cosas buenas provienen de Él.
Cuando la gente cita a Filipenses 4:19 "Pero mi Dios suplirá todas tus necesidades de acuerdo a sus riquezas en gloria por Cristo Jesús", y luego lo calificará con un debilucho "pero nunca se sabe … el Señor trabaja de maneras misteriosas" , que se haga su voluntad, tal vez sea su voluntad perfecta la que suframos, etc. te hace pensar. En el mejor de los casos, insultan a Dios. ¡Es como decir 'Dean dijo que haría esto, pero nunca se sabe'! No sé, pero no es muy complementario. O tienes fe en Dios y en Su Palabra, porque lo CONOCES o no. Si lo conoces, sabes que es bueno para su Palabra.
Las personas quedan tan atrapadas en las palabras y opiniones que pierden el punto. la fe no está rogando (como la religión nos ha enseñado). La fe no es algo en lo que crees, mas o menos. No es memorización. No es una formula. No es una cita bíblica. No es un sistema. Ni siquiera es una cosa cristiana, no importa cuán espiritual suene. Solo la fe completa en lo que Jesús ha hecho y solo en Él es la fe cristiana. Una fe cristiana salvadora está siendo completamente convencida y persuadida de que Dios hará lo que Él dice que hará, y usted le está pidiendo algo que ya le ha prometido. Eso no es suplicar, se está apoderando de un reclamo. Solo puede hacer eso si realmente lo conoce y confía en él.
Solía decir que creo (tengo fe) en el poder de la oración, pero eso en sí mismo no tiene valor. Puede ser que solo tengas fe en ti mismo, tu convicción, tus muchas palabras. Tienes que tener fe, fe verdadera, en quien que estás orando. Si no le oras a Dios con verdadera fe, te estás orando a ti mismo, o peor aún, A alguien. La gente ora todos los días por miles de millones, y es una pérdida de tiempo si no es para el único Dios verdadero.
Lucas 18:11 "El fariseo se puso de pie y oró así consigo mismo, Dios, te agradezco que no soy como otros hombres, extorsionadores, injustos, adúlteros o incluso como este publicano".
Romanos 10: 9 Que si confiesas con tu boca al Señor Jesús, y crees en tu corazón que Dios lo levantó de los muertos, serás salvo. 10 Porque con el corazón el hombre cree para justicia; y con la boca se confiesa para salvación.
Si no conoces a Dios, no puedes tener fe en Él. Realmente ni siquiera puedes hablar con Él. Puedes cambiar eso ahora mismo. El hecho de que incluso quieras conocer a Dios es sobrenatural. Ese es el Espíritu Santo de Dios que te guía. Ríndete completamente a Él hoy.
nota importante, la salvación viene DESPUÉS de la confesión
Podemos tener una fe verdadera, una fe activa si conocemos al Dios que nos ha dado su fe. La fe es un regalo. Viene cuando creemos en Él y lo tomamos a Su Palabra. Vamos a tener hambre y sed de justicia.
1 Juan 4: 6-7 – Somos de Dios: el que conoce a Dios nos oye; El que no es de Dios, no nos oye. Por la presente sabemos que somos el espíritu de la verdad y el espíritu del error.