Great week of ups and down.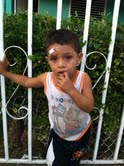 The house is a problem. Guy wants more and more money everytime we talk because he knows we have the money in the bank,and that it would be a cash deal.. Is not something wrong with this picture? That is why we are looking for another house to buy in Managua. If you have any ideas we are open to suggestions..
On the bright side, POOCHIE is NOW going to school here at our Pre'k! Could of a rough first week, but he is figurring it out. (see attachment) Poochies problems are more with his parents than they are with Poochie. Poochies parents are apathetic and fatalistic. Not good for a 4 year old. Winnie had a BLAST shopping for him. Thanks to the donater who made this possible.
We are busy this week looking at houses, feeding hungry kids, trying to encourage the little people with the Love of God, and running the pre´k as well as our own kids. Pray for us as we pray for you.
love, Dean and Winnie Peters