The difference between boys and girls;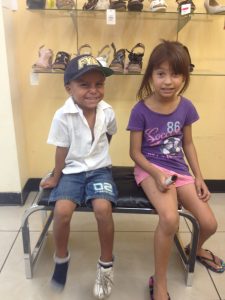 Other than love and doing God's will, the Winnies just love dragging kids from the street to clothes shop, a chick thing!
Poochie got clobbered in a rock fight at the dump yesterday (ergo the hat).Poochie does'nt like shopping ( neither do I, I think they paint these places with kryptonite) but he likes my jokes. The Winnies just like shopping for Poochie getting him ready for school. But they Hate my jokes, look at gordas face.
Poochie was more afraid of prek than he was of a gang fight.
According to our budget.
School is costing $1800./month all expenses
teaching ect 13 kids x 20 days= 260 teachings per month
$1800/260 = $7.00 per child per day or
approx $140.00 per month
WOW!!!