Romans 5:5
King James Bible
And hope maketh not ashamed; because the love of God is shed abroad in our hearts by the Holy Ghost which is given unto us.
The Love of God has been shed abroad in our hearts.  Christmas is when we celebrate Jesus' birth.  Jesus came, lived, died on the cross, and left us with His Holy Ghost.  His Holy Ghost shed love abroad in the hearts of His followers.  With that love comes Joy.  Joy is love, dancing around in your heart. There is no joy without love.  Joy is a by-product of love.
Joy is necessary to spread the Gospel.  Without JOY we are powerless.  TheGospel's power is JOY!
The 1st generation of Christians were persecuted.  They had no buildings, no churches.  Just men trying to kill them.  In their flight, they scattered around civilization.  Everyone that saw them saw their joy unspeakable, and many became believers themselves.  The same thing happened in communist china.  The same thing is happening today.  Check out reports from Iran.  Pastor Eric So, an ex IT guy, got saved, and is now a pastor living in a Syrian refugee center in PG county Md. with his family, check out his story!  JOY is contagious!
https://www.washingtonpost.com/news/acts-of-faith/wp/2016/11/23/as-donald-trump-rails-against-refugees-a-pastor-makes-his-life-among-them/?utm_term=.4b366ea1cca5
God's gift of JOYFUL LOVING however makes us more sensitive and vulnerable.  The good thing is that this gift is limitless and healing at the same time, in spite of any circumstance.  That gives us peace and confidence to keep pressing on when everyone, even yourself, tells you to quit.   That is my definition of JOY
It is a fact that people are happy when they realize that they have completed a goal.  The same applies to having JOY.  I think true Christian joy comes from a realization that we are loved unconditionally by the Creator of the Universe.  That fact makes us joyous, and capable of loving others.  With that certainty, there is no turning back.  Everything else is 2nd best.
Once you become a Christian, the enemy can't kill you.  He can steal your JOY however.  Without JOY, a Christian is ineffective.  JOY is a powerful tool for theKingdom of God.  It shines the brightest when it is challenged through difficulties.
Psalm 30:5
King James Bible
For his anger endureth but a moment; in his favour is life: weeping may endure for a night, but joy cometh in the morning.
JOY comes with love, but joy is really complete after the realization that God is really with you.  That usually comes only later.  Joy comes when it's darkest.  If you follow the following:
Formula for J.O.Y.
Jesus
Others
Yourself
I think the lack of complete joy in this present age is because often time we fail to follow the formula through to the end.
MERRY CHRISTMAS!!!   Here is a picture of us doing one of 4 Christmas celebrations!  WHAT JOY!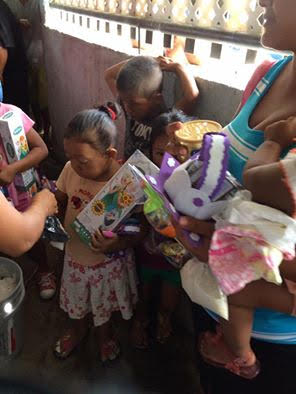 Dean Peters
Joy to the world! The Lord is come.
Let earth receive her King
Let every heart
Prepare Him room
And heaven and nature sing
And heaven and nature sing
And heaven and heaven and nature sing
Joy to the world, the Savior reigns
Let men their songs employ
While fields and floods
Rocks, hills and plains
Repeat the sounding joy
Repeat the sounding joy
Repeat, repeat, the sounding joy
He rules the world with truth and grace,
And makes the nations prove
The glories of His righteousness,
And wonders of His love;
And wonders of His love;
And wonders, wonders of His love.
Joy to the world! The Lord is come.
Let earth receive her King
Let every heart
Prepare Him room
And heaven and nature sing
And heaven and nature sing
And heaven and heaven and nature sing
And heaven and heaven and nature sing