29jan15 Daily Bread
Give us this day our daily bread…. Jesus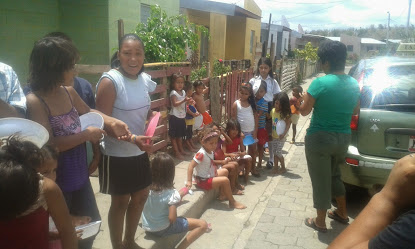 Always thought this was about food. But it is much more than that. It is about constant sustenance, Things we need daily that God so willingly supplies.
Jesus supplied us salvation through His sacrifice on the Cross. He provides air, water, everything we need. Giving us each day what we really need to make it. Food, air, health, money, love, human acceptance, protection. God gives us that every day and very rarely do we thank Him (except maybe in a hurried prayer before we eat, when someone is watching)
We sure do get mad at Him when He withholds something though. I am amazed how much like children we are and how much like a loving Dad He is.
One of our jobs in the Daily feeding center is to patiently explain to the children about God.and about His works and His Great Love for us. It is important for these beautiful kids to have a question and answer time. Also, they need relationships, play, and relaxation as they eat. It is a jungle out there, daily. We are all about Daily Bread, gifts from Heaven, on a daily basis.
Winnie talking about Pharoah and Moses with the kids before chow today..
——–ESPAÑOL—————-
Danos hoy nuestro pan de cada día …. Jesús
Siempre pensaba que era la comida. Pero es mucho más que eso. Se trata de sustancia constante, las cosas que necesitamos diario, y que Dios lo da.
Jesús nos dio la salvación a través de Su sacrificio en la cruz. Él proporciona aire, el agua , todo lo que necesitamos . Que nos da cada día es lo que realmente necesitamos . La comida , el aire, la salud , el dinero , el amor , la protección . Estas son cosas que Dios nos da que cada día, y muy rara vez lo damos gracias ( excepto tal vez en una oración apresurada antes de comer , cuando alguien está mirando )
Estamos seguros enojarnos con él cuando nos falta algo sin embargo . Me sorprendo que nosotros somos como niños y El es tan paciente con nosotros.
Uno de nuestros trabajos en el centro de alimentación diaria es para explicar pacientemente a los niños acerca de Dios y acerca de sus obras y su gran amor por nosotros. Es importante que estos hermosos niños tengan un tiempo de preguntas y respuestas . Además, necesitan relaciones , risa, juegos y la relajación , tanto como algo comer . Es una selva hacia fuera allí, todos los días . Estamos allí para ensenar que el pan de cada día es un regalo del cielo , sobre una base diaria ..
Winnie hablando de Faraón y Moisés con los niños antes de comer
Dean Peters
USA NUMBER 1-240-345-9268
local cel in Nicaragua 55010927
Deanpeters123 skype